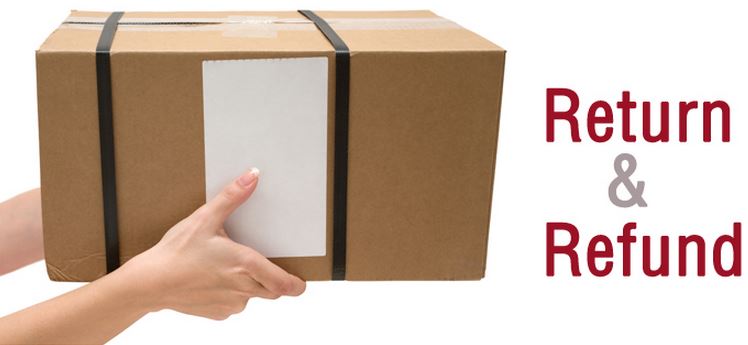 The Return Policy at 1001Shops Co. is simple.
If you are not 100% satisfied with your purchase, you can return your order to the warehouse
for a full refund (except the shipping cost) within 30 Days.
For the masks orders you cannot return the worn masks.
Return masks only allowed within 3 days of the receiving your purchase in original condition.
With 1001Shops Co's return policy there are no special catches or exceptions.
All we ask is that you before you send the items back to us, contact us and let us know about the return within 3 days.
Also, returns have to come in the original packaging, and make sure that the merchandise is in the same condition.
PROBLEM WITH ORDERS
Our highest priority is to always provide our customer the best possible experience. A truly great and satisfying customer service is getting more and more uncommon these days, and 1001 Shops Co. wants to prevent that from happening, in order to maintain lifelong customers. The very most important factor in such is maintaining high standards. Each one of our products is of the exceptional quality, with the greatest evaluation standard and a guaranteed excellent condition upon delivery.
RETURNS, EXCHANGES AND REPLACEMENTS
First things first, let us know about the issue within 3 days. After that, we will process and send out the replacement to you within 24Hours.
A return lable will be sent to you after you notify us, which you will be able to use to send the initial item back to us.
Make sure to use the initial packaging, as it often has custom padding, made specifically for the given item.
If you are returning your order, please print out a return label.
The return label is free of charge, simply print it out and tape it to your return shipment.
Please keep record of your tracking number.
For masks orders, if for some reason you do not like the mask you ordered, the order must be called for athorization within 2 working days
and return it in original packaging and in original condition.
RETURNS AND REFUNDS
Once again, don't forget to contact us first within 3 days to get an authorization for a refund. Once you have it, please send your return to us.
We will send you a refund minus shipping cost.